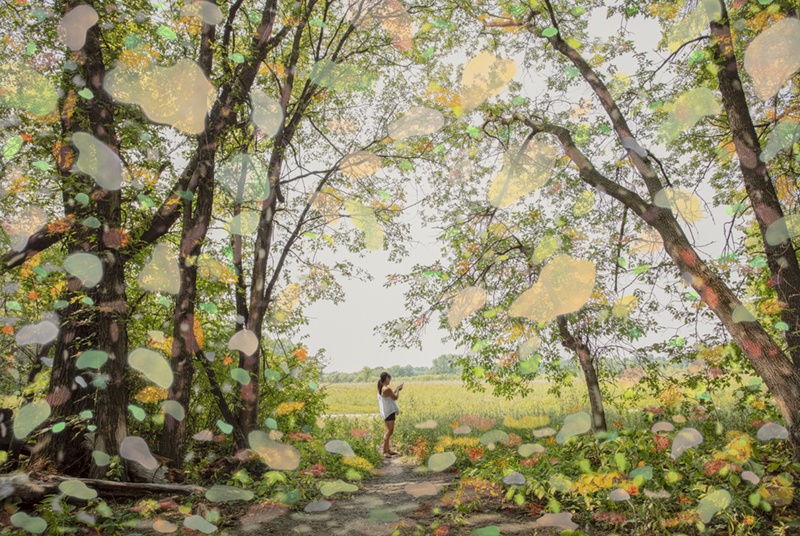 Current Exhibition:
Sarah Anne Johnson | Woodland
Opening Reception: Saturday, May 6, 2-5pm
Guided Tour of the Exhibition with Sarah Anne Johnson: Saturday, May 6, 3pm
Exhibition Dates: May 6 – June 24, 2023
During CONTACT, Toronto's annual photography festival, the Stephen Bulger Gallery is pleased to present "Woodland," our sixth solo exhibition of work by Canadian artist Sarah Anne Johnson.
In "Woodland," Sarah Anne Johnson interrogates the truthfulness of the image through her depictions of nature in the forests of Manitoba, near Winnipeg. Informed by Indigenous knowledge and understanding of the land, the sacred quality of trees, and modern scientific research that understands plants as social creatures able to communicate with each other, Johnson's mixed-media interventions amplify the sublime and metaphysical qualities of the natural world. Through interventions of oil paint, holographic stickers, and dyes on the surface of pigment prints, Johnson reaches beyond what is seen in nature to depict what is felt by humans, plants, and woodland creatures. Herein, Johnson effectively reorients traditionally anthropocentric perceptions and representations of landscape and nature with ample use of geometric shapes and prismatic colour.
---
HOURS
Tuesday – Saturday: 11am to 6pm, open till 8pm the first Thursday of every month.
---