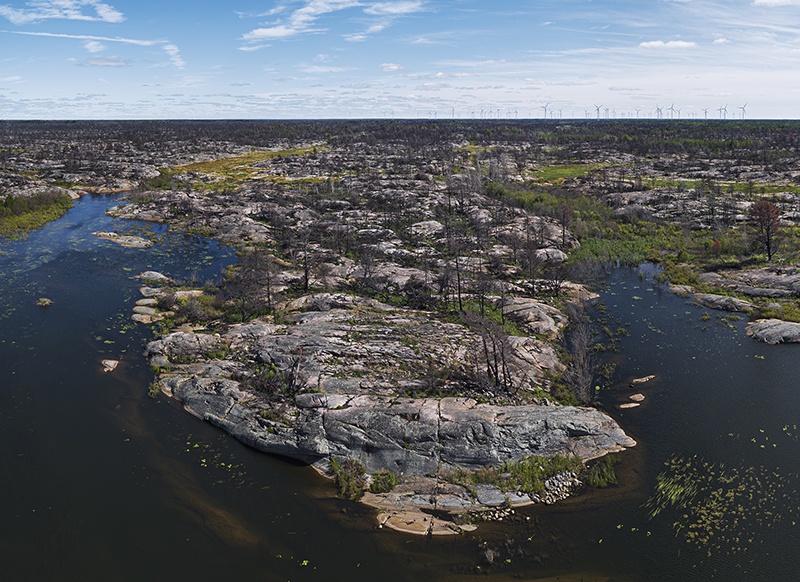 Current Exhibition:
Joseph Hartman | Parry Sound 33
Opening Reception: Saturday, March 4, 2-5pm
Guided Tour of the Exhibition with Joseph Hartman: Saturday, March 4, 3pm
Exhibition Dates: March 4 – April 22, 2023
The gallery is pleased to present "Parry Sound 33", our fifth solo exhibition of work by Canadian photographer Joseph Hartman.
"Parry Sound 33" is a series of landscape photographs and watercolour paintings documenting the aftermath of the Parry Sound 33 forest fire which began on July 18, 2018, on the Henvey Inlet First Nation in Northern Ontario. Construction crews working on a wind farm sparked a fire that eventually burned a total of 11,362 hectares along the shores of Georgian Bay. It took three months to officially extinguish the fire that was so intense that embers carried by the wind crossed open water spanning the Key River, reaching many islands, and burning several cottages and homes. An investigation by the Ministry of Natural Resources and Forestry concluded that the fire was started by a disabled vehicle that had been operated by construction crews working on the Henvey Inlet Wind Project. The construction company hired to complete the installation of the windmills was pressured to continue work through extreme fire bans despite the many small fires that had already been started by crews due to the strict completion deadline imposed by the government contract. Circumstances surrounding the forest fire are complex and ultimately, its investigation did not assign blame, and no charges were laid.
---
HOURS
Tuesday – Saturday: 11am to 6pm, open till 8pm the first Thursday of every month.
---